On Tuesday night, December 16, Angel Tree children, family members and Shandon volunteers – nearly 200 strong - gathered for Shandon's annual Angel Tree Party. Annually Shandon partners with Prison Fellowship to provide clothing and toys for nearly 200 local children with one or both parents in prison.
The party is a way not only to provide a free meal and a fun time for the children and their families, but also to remind them of the real meaning of Christmas through a live Christmas drama provided by students from Ridgeview High School. The party also provides an opportunity share the gospel with these families.
Because of your generosity, not only did we give these dear children Christmas gifts, but we also gave each family a full Christmas meal to prepare, complete with a 10lb. ham!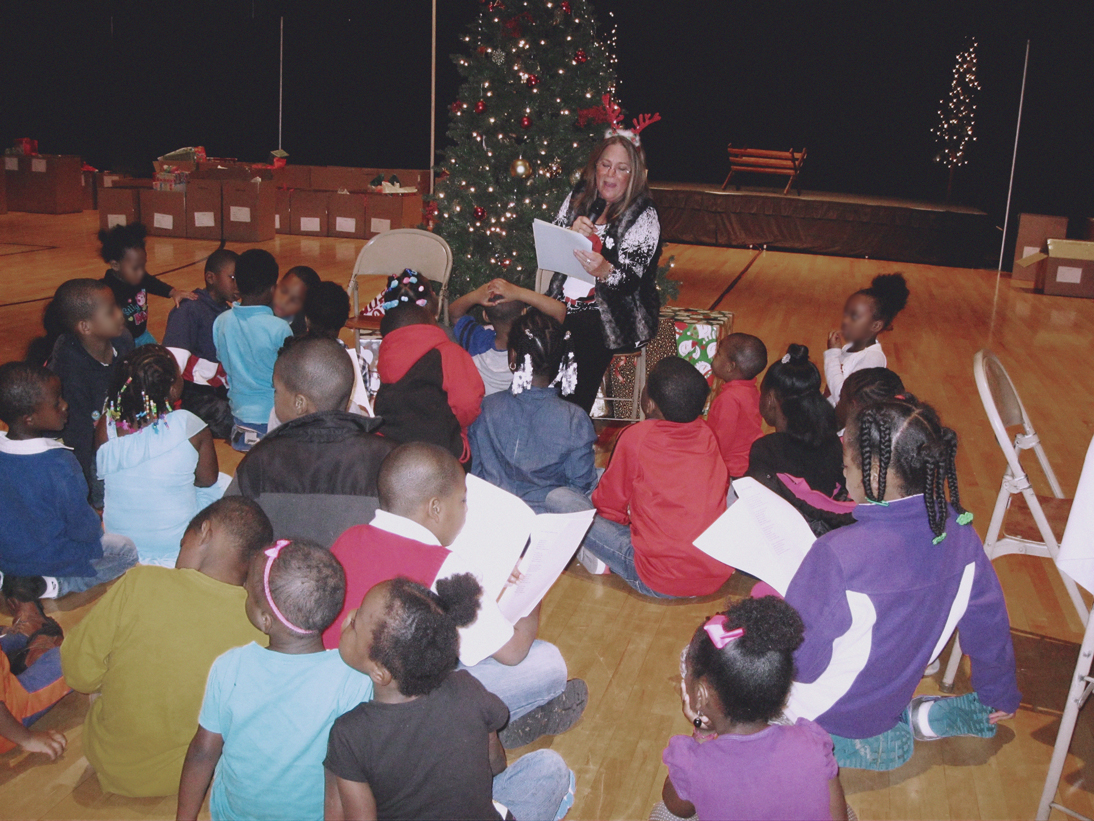 Shandon's receptionist, Lisa Olson, leads the children in singing Christmas carols.
When asked what the Angel Tree ministry means to her, single mom Quanella said, "We are very thankful and grateful. As a single mom, I cannot do very much for my children. I am very grateful."
Grandparents Barry and Cassandra said, "It gives us strength. It makes us feel good. It makes our son's children think good of their father – that he is taking care of them."
Our Angel Tree project could never happen without the dedicated commitment of so many volunteers and so many members who provide the gifts and Bi-Lo gift cards (for the Christmas meals). Shandon member Lucille Heydt led this year's Angel Tree volunteer team. When I asked her why she invests countless hours to make the Angel Tree ministry possible, Lucille responded, "I want to give back to the church. The children have so many needs. I love giving to this program and giving gifts to the kids...I just want them to have a good Christmas and for them to have food."
To all of you who volunteered time for the project and party, and to all of you who contributed gifts and Bi-Lo gift cards, thank you very much!
---
What is Project Angel Tree
Prison Fellowship's Angel Tree program is the only nationwide effort that specifically reaches out to hundreds of thousands of innocent children who carry the heavy burden of their parents' incarceration throughout the year. At Christmastime, Angel Tree introduces prisoners and their children to Jesus and brings healing and restoration to families destroyed by crime.
What Project Angel Tree Does
Through the delivery of a Christmas gift and the Gospel given on behalf of the incarcerated parent, Angel Tree boys and girls are presented with Christ's free gift of salvation, feel loved and remembered by their parent, and experience the simple joys of the Christmas season. Angel Tree also provides ministry to the children through its summer camping program and promotes family reconciliation through discipleship and mentoring.
Learn more at prisonfellowship.org.