Hey Church!
I am really excited for this Sunday...here's why: this Sunday, July 12 is our first ever Hymn Sunday in the Modern Worship Service!
Yes, I know...we actually sing hymns fairly regularly in the 11:30 service. I love being able to sing a current song like "We Will Not Be Shaken" right after a song from 1875, like "Hallelujah! What A Savior." Both songs--regardless of generation--remind us of how wonderful our God is and of the hope and strength we find in Christ.
But this week I am really excited to have a morning of all hymns! I'm looking forward to singing these timeless songs that are so rich in theology and eternal truths. Of course, the band will play them in a modern style (with help from a banjo and an analog synthesizer!), but the familiar melodies will be the same as they've been for hundreds of years.
One of the hymns we'll be singing this week is "Be Thou My Vision." It's a traditional Irish hymn dating back to the 8th century. We'll sing the translated version from 1902, so no need to brush up on your ancient Irish dialect! I've always loved this hymn and the reminder in it to keep God in our sights. The first verse sets the tone for how we should live every day:
Thou my best thought by day or by night
Waking or sleeping, Thy presence, my light.
What better way to start a day than by setting our gaze on God and reminding ourselves to keep him in our thoughts constantly!
Here are the hymns you can look forward to this Sunday: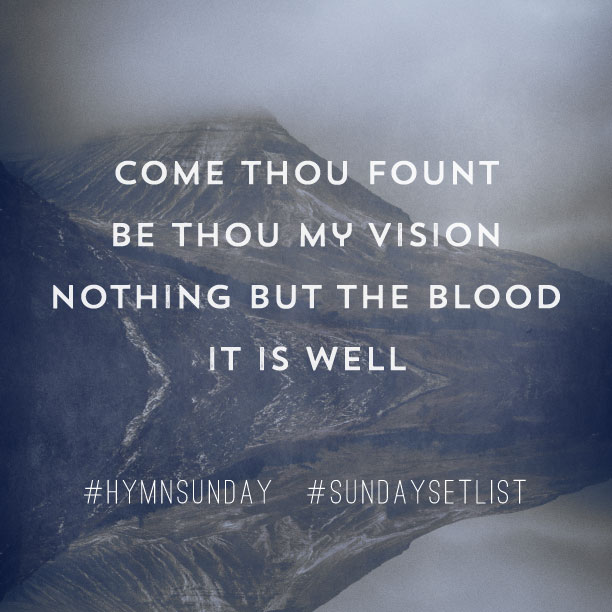 Vote for the Invitation Hymn!
You can determine what hymn we sing at the end of the service! Submit your vote before 3pm on Thursday (July 9).
Join the band and me for a great morning of worship this Sunday at 11:30. I can't wait to join our voices with millions of Christian brothers and sisters who have sung these same choruses across the centuries.
I'm anticipating that we'll all find ourselves lost in the truths these verses contain, and I'm praying they lead each of us into worship of the King in a fresh way that captures our attention and enraptures our hearts.
Hymn Sunday! You won't want to miss it!
Andrew Carr, Modern Worship Leader