by Taryn Davis
Serving together had become part of the fabric of our family life at Christmas, as much a part of our tradition as wrapped presents under a tree.
Participating in The Singing Christmas Tree has been a blessing not only to me personally, but also to our growing family. As we approach the 25th year of The Singing Christmas Tree, take a stroll with me down memory lane...
I first danced in The Singing Christmas Tree in 1993. I was fresh out of college, happy to have my first opportunity to dance for Jesus. We danced as angels to a funky harpsichord version of "Gloria" and a moving duet to "Mary Did You Know?" Every time I hear those carols on the radio, my mind flashes back to the Township Auditorium, where we originally hosted The Tree.
Check out this clip from the 1994 event:
Fast forward ten years. I am now married and have recently given birth to our second child. That year, there were more angel numbers and a dance where Mary gently twirled with newborn Jesus. I remember laughing when someone overhead a member of the audience say "What kind of mother would let that woman dance around with her baby?" I was the dancing Mary and the baby was Brennan, my newborn son. No chance that I would drop him. And absolutely no chance that we would miss The Tree either! I didn't want to miss it for anything. In fact, two years before I had danced pregnant with our firstborn and had to lay down on the dressing room floor and take naps in between shows! But, God still worked it out for our whole family to be involved (my husband served as an usher). Serving together had become part of the fabric of our family life at Christmas, as much a part of our tradition as wrapped presents under a tree.
In 2011, my husband, Andy, and I took a crash course in ballroom dancing (also known as date nights) and waltzed to "Silver Bells." Moments after our final performance, we threw off our costumes and drove like a rocket to Charlotte to pick up the orphan children from Latvia we were hosting (and who later became our adopted children and the sixth and seventh members of our family). Even that crazy year, God provided a way for us to serve in the midst of our busy, complicated family life.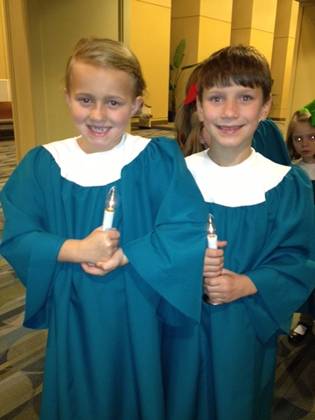 Last year my entire family, husband + five kids, participated in The Tree. Rehearsals and costumes, stage lights, and fellowship make up a beautiful part of our worship of Christ at Christmas, and we invite you and your family to consider how you might become involved.
The reality is that there will be obstacles in the busyness of the Christmas season and in the fall leading up to that special time. Yet, they can be overcome. The hours you give spent in service to Christ will be tiring, but I promise that God will reward you with much more than you give in return. That's His way--to out-give us every time.
Give, and you will receive. Your gift will return to you in full- pressed down, shaken together to make room for more, running over, and poured into your lap. For with the measure you use, it will be measured to you. – Luke 6:38
Every Christmas season, my cup runs over.
Learn more about the many ways to be a part of this year's The Singing Christmas Tree: